"I was first introduced to glass through my father, Wally Blodgett. Through my teenage years, I was surrounded by art since my father was an ceramic artist. He was the one that had the desire to work in glass. Val Sanders of Palomar College was the one who gave him the first opportunity to blow glass in 1969. Within a few months he had the first furnace in operation. I was hooked and we began learning together to blow glass.
We began selling our work while I was still going to college. On weekends, we would do our work and during the week I'd be in class studying. On graduation, I began working full-time at glass. We began to develop a line of blown glass wind chimes, which began to sell over the entire country.
In 1978, a Swedish glassblower, visited our family for 6 months. He taught me a new style and many new techniques for blowing glass. Using this knowledge, new designs began to emerge from the studio, along with a large improvement in the quality of the work. I was always impressed with the frozen liquidity of the glass, which seemed to mesh with my love for the ocean and surfing.
In 1986-87, I moved to Gainesville, Florida and did no glass work. I returned to California in 1987 and took over the operation of Blodgett Glass, and began to move more towards the Art Glass market and began selling to Galleries and Craft Stores."

Scenic Wave Vase
Large Round Flat Vase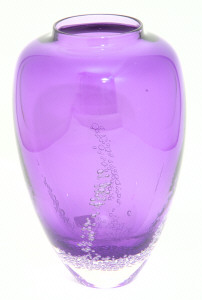 Closed Mouth Vase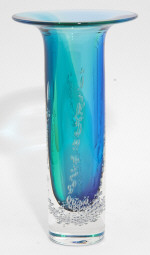 Small Flared Vase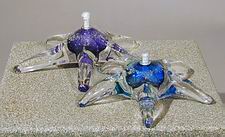 Star Fish Oil Lamps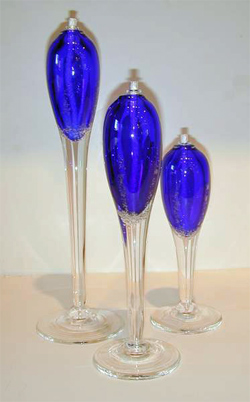 Cobalt Tall Oil Lamp Set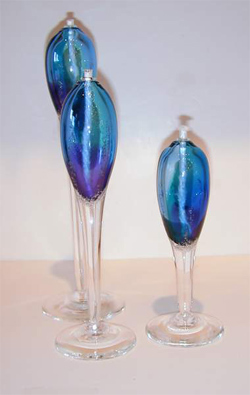 Multi-Colored Tall Oil Lamp Set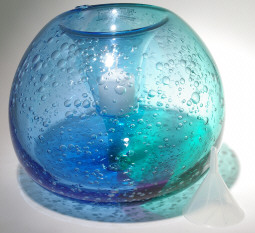 Water Candle Blue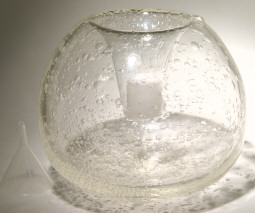 Watwer Candle Clear
Small Round flat Vase