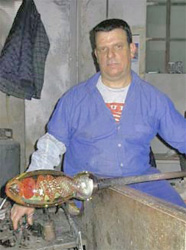 Paste artist pic here: Romano Donà was born in Murano in 1956 into a family with centuries of experience in glassmaking. He entered the furnace at an early age, beginning his apprenticeship with his father at the Flli Manfren Glassworks. In 1975 he began with the glass master Livio Seguso where he continued for twenty years. There Romano perfected his skills, not only in meeting the exacting demands of Seguso but by collaborating with a series of artists such as Henry Mavrodin, Federica Marangoni, Mimmo Rotella and Ugo Marano.
Dona developed a specialty with glass sculpture, and in 1987 he won the Premio Murano award for glass masters. In 1997 he began working at Stefano Toso Glassworks, where he created his own original pieces. He also continued collaborations with other artists. This infusion of creative energy from artists such as Rodica Tanasescu, Antonio Meneghetti, Raffaele Rossi and David Farsi helped him diversify his skills. In 2000 with Silvano Belardinelli, the art director for a group of Japanese artists, he translated the designs of several Asian artists into glass. Then in 2003 Romano began experimenting with the traditional Muranese techniques of "filigrana" and "incalmo." His application of these centuries-old processes looked entirely new. The results were brightly colored, heavy vessels that undulated with pattern.
Romano continues his experimentations. He has collaborated with Lucio Bubacco, the great Italian lampworker and sculptor to combine the techniques of lampwork and "massicio" sculpture in a effort to produce something very new. This continued willingness to delve deeper into the glass and to push its limits promises a continual flow of excitement from Romano Donà.